Moment is the time when a

Multidisciplinary Journal

is needed as the phenomenon of international change of mankind is occurring in a complex way.
Publisher is specialized in the field of Multidisciplinary Science, and this journal is also an Interdisciplinary Journal, covering all academic fields related to Military Affairs in all fields of research.
The Biggest Feature, it can be said that an approach in various fields related to the

Military Affairs

is key.
At the core, this journal deals with research topics on Military Affairs issues in Northeast Asia, including South Korea, North Korea, which are International concerns and issues. Analyze and make recommendations on national policies.
Area 1 Multidisciplinary
Area 2 Government & Law
Area 3 International Relation
Open Access, Citation & Index
Area 1 KCI (Korea Citation Index)
Area 2 ROAD
Area 3 CROSSREF
Area 4 EBSCO
Area 5 ProQuest
Area 6 Exribris
Area 7 Google Scholar
Purpose: In preparation for the great security threats surrounding the Korean Peninsula, it is urgent to establish defense space capabilities to acquire prior information and secure precise response capabilities. It is also urgently necessary to establish a military utilization plan for the Korean-style independent navigation satellite, which is reflected in the mid-to-long-term national space development plan. Method: This study used the following research method. First, I predicted the importance of space in de-fense and the aspect of space war. In addition, it analyzed the trend of strengthening the defense space of countries around the world and derived implications for strengthening Korea's defense space. Based on this, the revision of the law and the improvement of the system were proposed to strengthen Korea's defense space. Results: Revision of Laws and Regulations for Strengthening National Defense Space. The amendment of the Space Development Promotion Act should be made as soon as possible. It is to establish a legal basis for the military to pursue space development on its own. The first option is to enact a law to strengthen the defense space force(special law). The second plan is to revise the current 'Space Development Promotion Act', add and strengthen security-related clauses. Korea's Defense Space Strategy Development Direction is to strengthen cooperation with advanced countries including the United States for space security, effectively responding to space threats and space risks, and strengthening civil-military space cooperation. Conclusion: While first pushing for the enactment of a special law through the legislation of lawmakers, it will be appropriate to insert and revise provisions related to defense space in the current laws(such as the Space Development Promotion Act, the Defense Business Act, the Armed Forces Organization Act, the Aerospace Industry Promotion Act, etc.). It is necessary to give the defense minister full authority on issues related to defense space, and on the other hand, it is reasonable to carry out legislative activities in a way that does not go against the cause of "peaceful use" of the international community. In addition, efforts should be made to expand systems and organizations to strengthen the defense space and train experts.

Keyword:

Defense Space Power, Space Capabilities, Space Development Promotion Act, Space Law, Defense Space Strategy

Purpose: In this study, the possibility of economical design of a protective structure was presented based on explosion test data and computer simulation results on the safety of both a building and human bodies for the combat training building. Method: A training facility was built for soldiers to experience the vibration, pressure, and noise generated inside the building due to the explosion of the TNT. In the explosion proof test, 9lb of TNT, equivalent to the weight of a 4.2-inch mortar shell, was detonated in four places around the building, including the roof of the training building, the door, and the outside of the wall to determine the damage. Vibration, pressure and noise transmitted into the building were measured. After the explosion test, the damage to the building was examined through a rebound hardness test and visual inspection, and the impact on the human body was estimated by measuring the pressure at three spots inside the building. Afterwards, computer modeling and simulation was performed using High Explosion Damage & Injury Assessment Model(HExDAM) and simulation results were compared with explosion test measurements. Results: As a result of inspecting the structural damage of the building, there was no significant displacement of the structure and it was determined that there was no problem in using the building. The compressive strength of concrete was observed through Schmidt hammer, it showed 96% of the strength compared to the design strength(30MPa). The pressure inside the building was measured in the range between 0.063 and 0.488 kPa, which is a very small value that is harmless to the human body. According to computer simulation, the internal pressure increased as the wall thickness decreased. However, even if the wall thickness was reduced, the pressure delivered to the inside did not increase significantly, and it was still found to be harmless to the human body. Conclusion: Through the explosion test, it was confirmed that the structure and personnel inside the training building for combat field experience were safe enough against the explosive power of a 4.2-inch mortar shell. Computer simulations showed that there is room for reducing the thickness of the wall of the building, and the necessity of economical design was suggested by using computer simulation for designing protection facilities and military facilities.

Keyword:

Blast Effects, Explosion Test, Reinforced Concrete Building, HExDAM, Modeling & Simulation

Purpose: The purpose of this study is, first, to organize the debate on the reductionism of the concept of limiting terrorism to non-state organizations. Second, we analyze the characteristics of culturally motivated terrorism. Third, we study the discourse on the ideological fiction and violence of Islam's Salafism. Method: In the concept of terrorism by institutions or scholars studying terrorism, they point out errors limiting the actors to non-state organizations, explain religious terrorism and political and social contexts, and try literature research on logic and strategies that justify terrorism by interpreting Salafism as aggressive content. Results: The reason why the actors who commit terrorism are limited to non-state organizations is because they are limited to the interests of specific countries or organizations. Historical examples of attempts at terrorism by the state are sufficiently accumulated in other studies. The reason for the occurrence of religious terrorism is not simply to realize a society where religious ideology is realized, but social discrimination and contradictions combine with religious ideology, resulting in terrorism. From this point of view, Salafist terrorism can also be interpreted. Conclusion: Since the late 20th century, numerous terrorism has occurred mainly in Islamic society. Domestic and international disputes and system instability can provide an excuse for attacks on dissatisfied forces at any time, and incidents in which an unspecified number of people are attacked by groups armed with the name of religion will not be cut off. As so far, political oppression and military response alone are difficult to solve, so high-level complex strategies such as social reform and growth of anti-terrorism groups must be sought.

Keyword:

Non-State Organizations, Jihad, Salafism, Terrorism, Religious Obligations

Purpose: In the case of a conflict that today destabilizes a country's system such as a complex civil war, it is quite difficult to resolve it on its own. If disputes are not any more internal problems and threaten international security, efforts by the international community cannot help but be made. The purpose of this study is to analyze how the resolution of disputes in a country and the transition of democratic systems can be achieved through multilateral cooperation among various actors in the international community. Method: To this end, the situation of Darfur in Sudan will be selected as a case study. First, the fac-tors that influenced the resolution of conflict faced by Sudan and the transition of the democratic system will be divided into internal and external factors, then I look at how these factors worked and what the correlation between them is. Results: The two internal factors, the demand for democracy by civil society, which used the coup as an opportunity for change, and the resolution of disputes by the transitional government and the transition to a democratic system, had positive impacts on Sudan. The external factor pushed by the U.S. has affected the will of the interim government for the transition to the democratic system. Efforts by the international community, including the United Nations, served as a positive external factor, too. The creation of a peace-building mission in response to the Sudanese government's willingness to resolve the problem has served as a practical external factor of the international community. Conclusion: Intra-state conflict is not easy to be settled by the country's single will. Therefore the Sudan case has meaningful implications to us on how that state and the international community will have to seek more inclusive efforts.

Keyword:

Multilateral Cooperation, Sudan Transitional Military Council(TMC), African Union-UN Hybrid Operations in Darfur(UNAMID), UN Integrated Transitional Mission in Sudan(UNITAMS), Peacekeeping Operations(PKO)

Purpose: This study is to reveal the limitations of the existing concept and recognition of the reserve force by analyzing the actual situation and policy of the reserve force. In addition, by establishing a new concept of the reserve forces based on the total force, and suggesting the direction for the modernization and force integration of mobilization-oriented units, it is intended to contribute to the expansion of national security in the future. Method: The research method is to conduct a single case study that provides a framework for understanding and interpretation in decision-making and execution of the reserve force reinforcement policy. An interpretive case study will be conducted to analyze the process of forming the total force of the United States(US), focusing on the case itself rather than the theory. Also, for a qualitative study through archival research, reports from the US Department of Defense and Congress, historical data of the National Guard, research papers and publications published by the ROK Ministry of National Defense(MND) and Army, and domestic and foreign papers will be reviewed. Results: According to the total force policy of the 1970s, US viewed the reserve force as a companion force of the standing army and promoted the reinforcement of its forces. And the successful innovations in the structure, organization, and training of reserve forces by the Military National Defense(MND) and the Army of U.S. in the 1960s supported this policy. However, the strength and readiness of the Reserve Forces of ROK have not improved significantly compared to the past in terms of structure and organization, training system, and budget. Conclusion: The concept of a reserve forces should be extended from a combination of mobilized personnel and materials to a unit composed of them. First of all, efforts should be focused on improving the operational capability and effectiveness of the mobilization-oriented units among the reserve forces. So the concept of reserve forces should include all human and material resources mobilized for national security and mobilization-oriented units augmented in wartime.

Keyword:

Reserve Forces, Total Force, Mobilization, Reserve Unit, ROK Army's Mobilization Force Command
| | JAN | FEB | MAR | APR | MAY | JUN | JUL | AUG | SEP | OCT | NOV | DEC |
| --- | --- | --- | --- | --- | --- | --- | --- | --- | --- | --- | --- | --- |
| Submission | 1/20 | | | 4/20 | | | 7/20 | | | 10/20 | | |
| Editorial Review | 1/30 | | | 4/30 | | | 7/30 | | | 10/30 | | |
| Double Blind Peer Review | | 2/20 | | | 5/20 | | | 8/20 | | | 11/20 | |
| Review-Form Reflection Review | | 2/25 | | | 5/25 | | | 8/25 | | | 11/25 | |
| Accepted | | 2/25 | | | 5/25 | | | 8/25 | | | 11/25 | |
| Manuscript Editing Review | | 2/30 | | | 5/30 | | | 8/30 | | | 11/30 | |
| Scientific Proofreading | | <15th> | | | <15th> | | | <15th> | | | <15th> | |
| Open & Hybrid Review | | | 3/15 | | | 6/15 | | | 9/15 | | | 12/15 |
| Published | | | 3/30 | | | 6/30 | | | 9/30 | | | 12/30 |
Editorial Advisory Boards
Ilseong Jeong

General Affairs

Korea National Defense University, ROK
Jongok Park

Intelligence

Army Training and Doctrine Command, ROK
Sangsoo Park

Management

Daejeon University, ROK
Ilhoon Song

Planning

Yongin University, ROK
Gonzalo N Guerrero R

International

Korea National Defense University, ROK
| | |
| --- | --- |
| Hyokyung Kang | Korea National Defense University, ROK |
| Hongman Choi | Taegu Science University, ROK |
| | |
| --- | --- |
| Dongyoung Noh | Gangdong University, ROK |
| Seongik Ahn | Yeungnam University, ROK |
| | |
| --- | --- |
| Jenny Town | US-Korea Institute at SAIS, USA |
| Chen Jim | National Defense University, USA |
| Shouping Li | Beijing Institute of Technology, China |
| Mariko Nakamura | Chuo University, Japan |
| Alistair Harkness | Federation University Australia, Australia |
| Graham Brooks | University of Wolverhampton, UK |
2015
JUN. 23

National Tax Service of Republic of Korea (493-92-00207)

DEC. 05

Inaugural General Meeting

2016
FEB. 19

International Journal of Military Affairs (ISSN 2423-8775)

JUN. 30

First Journal Publication (378 Tenjinchou Kamimaruko Nakaharaku Kawasakishi Kangawhken Japan)

OCT. 11

Digital Object Identifier Enrollment (DOI)




Google Scholar

2019
APR. 23

EBSCO

APR. 30

I2OR

MAY. 07

ProQuest




Exribris

MAY. 15

Infobase Index

MAY. 31

SIS

JUN. 30

Journal Publication Change Address (2-20-7 Arakawa Arakawaku Tokyo Japan)

2020
NOV. 02

KCI

(Korea Citation Index)
2021
JUL. 01

Journal Publication Change Address (59, Cheongsu-ro 24-gil, Suseong-gu, Daegu, Republic of Korea)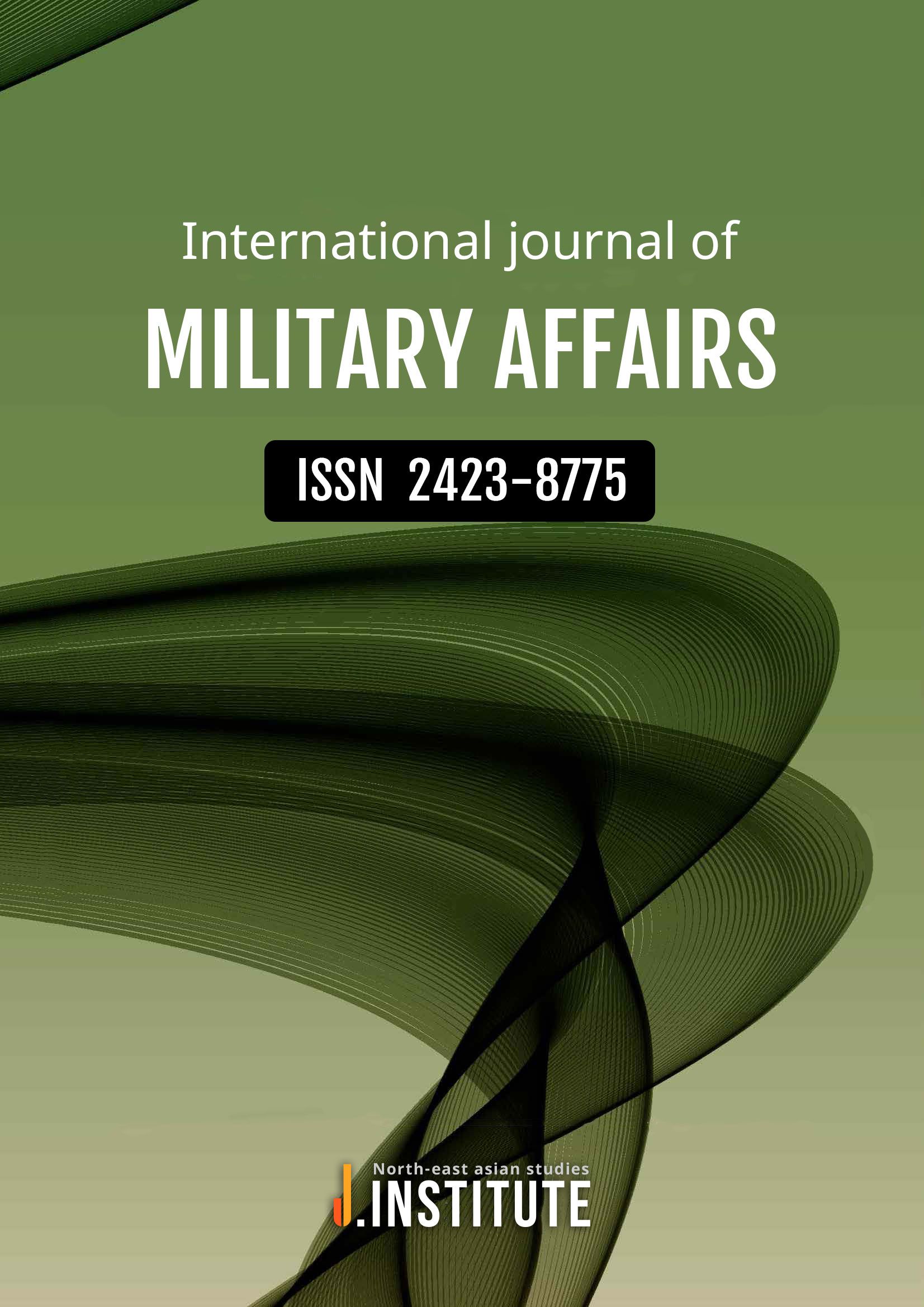 submission@j-institute.org